Food and Wine
The local food and wine excellences are stuffed "chichi", "funghetti" (anise-based sweets) and Terre di Offida DOC and Offida DOCG wines, as well as fish from the nearby Adriatic Sea and Ascoli Olives.
Typical products
Stuffed Chichì
"Chichì" is a dialectal name which means stuffed focaccia, formerly made with bread dough, stuffed with common ingredients such as tuna, anchovies, capers and chopped peppers.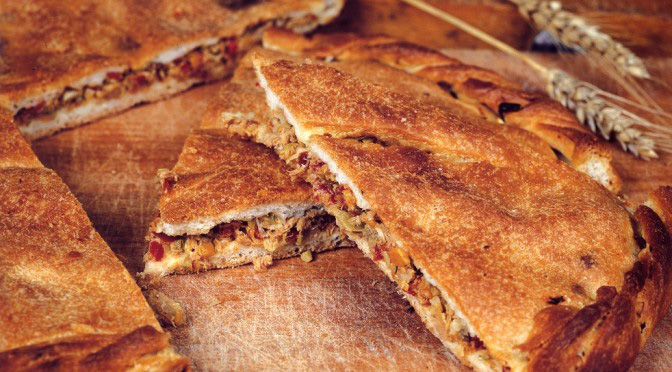 Funghetti di Offida
Water, flour, sugar and anise seeds, 4 simple ingredients for a recipe with an ancient flavor: the famous funghetti (which means mushrooms) are a typical dessert of Offida's cuisine. The "mushrooms" have ancient roots and are still prepared by the housewives who call them so for the unusual shape that resembles a mushroom.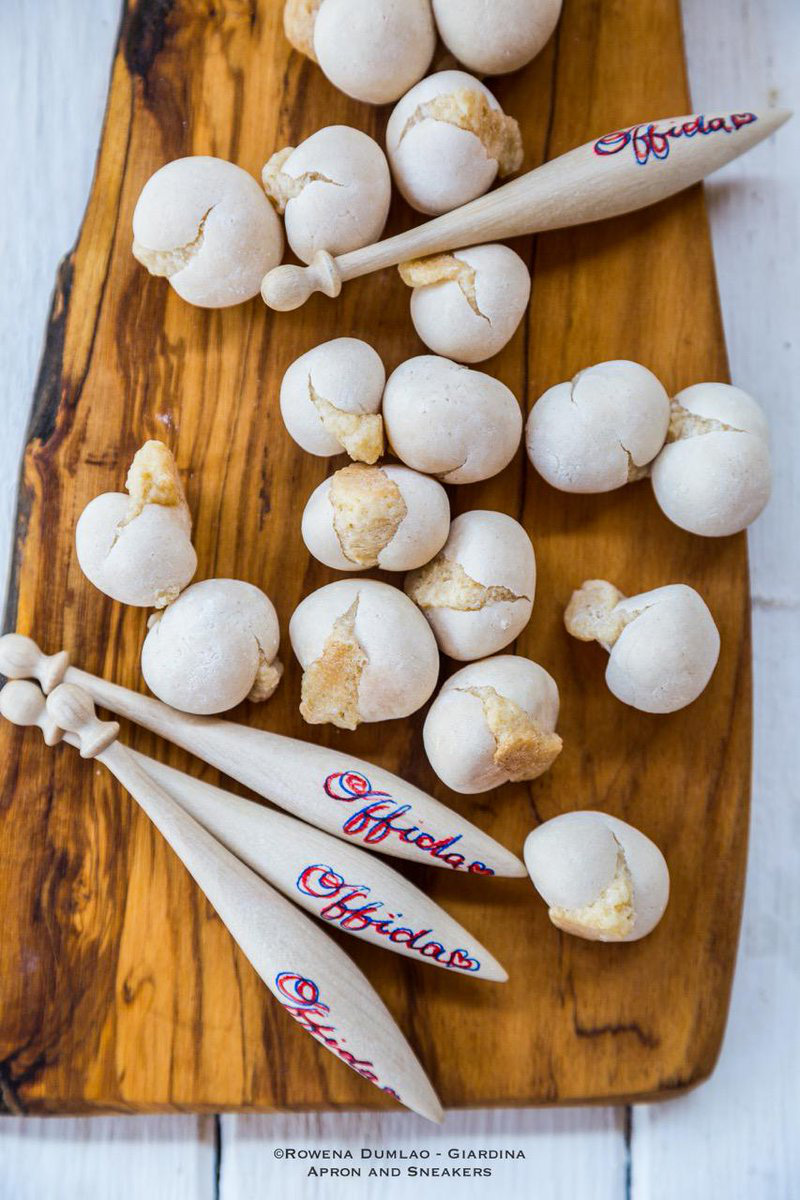 DOCG white and red wines
The DOCG is divided into three varieties: Offida Pecorino, Offida Passerina and Offida Rosso.
Offida Pecorino: Offida Pecorino is produced with at least 85% Pecorino grapes. This variety was very much widespread since ancient times on the slopes of the Sibillini Mountains; later it was slowly confined to the Arquata valley, when more productive vines were introduced. It was only in the 1980s that, on the initiative of Guido Cocci Grifoni, a winemaker determined to recover the native vines, the it was reintroduced to the Offida and Ripatransone area. Known since the 1800s with the names of Pecorina Arquatanella, Uva Pecorina and Uva delle Pecore, this grape variety is found in purity in the DOCG Offida Pecorino.
Offida Passerina: Offida Passerina DOCG is produced with grapes of the Passerina grape variety at 85% and maximum 15% of local white berried grapes. This grape variety is particularly resistant to diseases and the most adverse weather conditions, thus it guarantees an excellent yield, so much so that in the past it was renamed by the winemakers with the significant names "Cacciadebiti"(meaning it could pay off any debt) or Golden Grape.
Offida Rosso: the ampelographic base of the "Offida Rosso" typology foresees Montepulciano (minimum 85%) and a remaining percentage to which all the other non-aromatic vines, red berried, suitable for cultivation in the Marche Region can contribute. The release for consumption of DOCG wines "Offida Rosso" can only take place after the compulsory aging period of 24 months in total, 12 months of which in wood, increased by a period of 3 months of mandatory refinement in the bottle, starting from before November 1st of the harvest year. "Offida Rosso" wines have a ruby red color with a tendency to garnet, with notes of red fruits and hints of licorice and chocolate stand out, the taste is soft, broad with a very long aftertaste.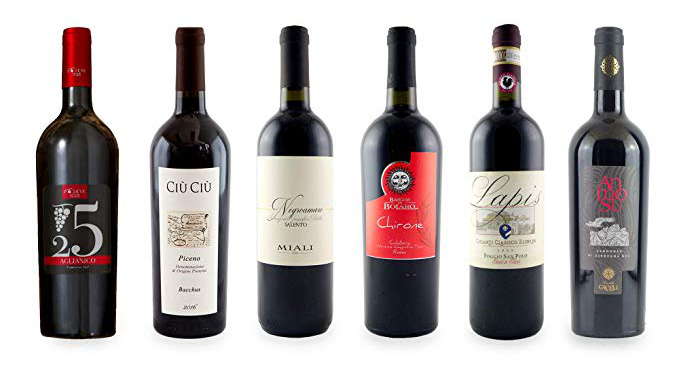 Brodetto alla sanbenedettese
Brodetto has existed since fishermen have existed.
This much-appreciated dish has been the main, and probably only, meal of fishermen for centuries. Its ancient origin belongs to the people and comes from the habit of cooking on board some of the fish that could not be sold in the markets because of its small size, low quality, or not enough quantity. So Brodetto started to develop by mixing some of this small fishes, seasoned with just some olive oil. During the years, this dish has changed and has become a more elegant one, conquering a well-deserved fame in the entire nation, and becoming a prerogative of Marche. There is no official recipe for Brodetto. There are many variations of this dish, from those arranged with whatever fish is available to those more polished and refined. In the restaurant version, there are king prawns, clams, mussels, which are not found in the more traditional versions. Fish that can be found in Brodetto can be divided into two groups: those which are softer (cod, dogfish, cuttlefish etc) that absorb the flavor of those which are harder (monkfish, orchard grass, red mullet, etc.)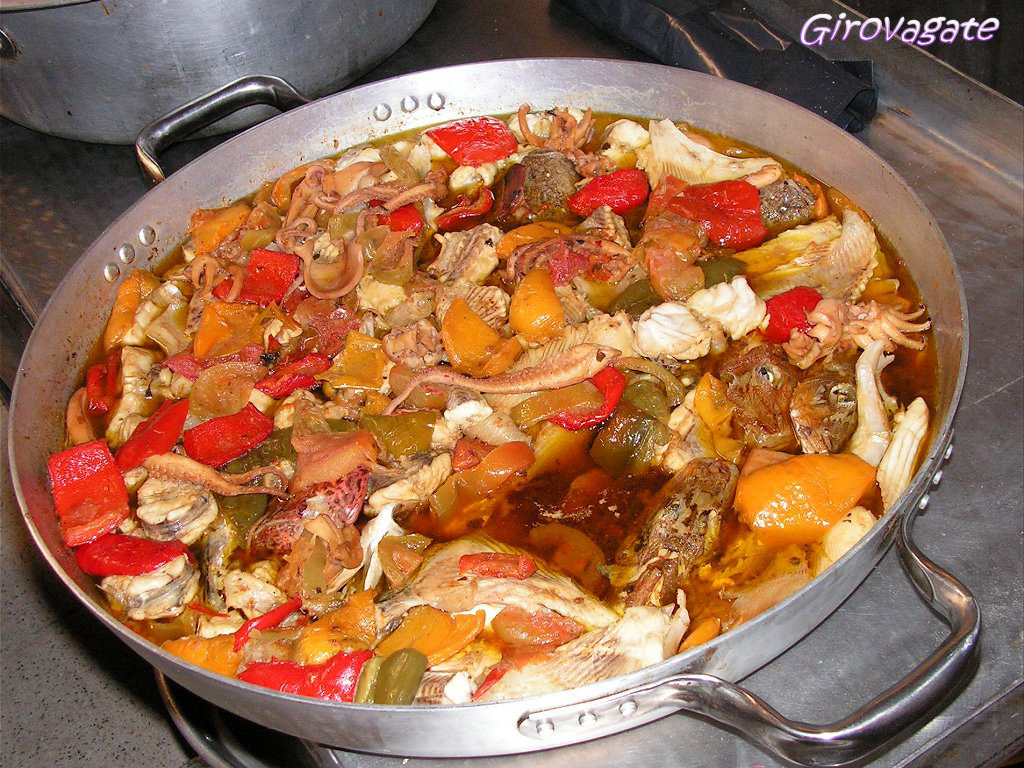 Olives with Ascoli
They are a specialty of the area and they are one of the most representative dish from the Piceno area. They are usually served with other fried food, like meat and vegetables (mixed fried all'ascolana comprehends artichoke, zucchini, and lamb) and fried cream. Benedetto Marini dates the origin of this dish during 1800. At that time, cooks serving noble families invented the stuffing as a method to use the many varieties of meat available, given by the peasants to their landlords. Olives all'ascolana are usually prepared for celebration and festivities. It is possible to buy them in some of the shops in the area.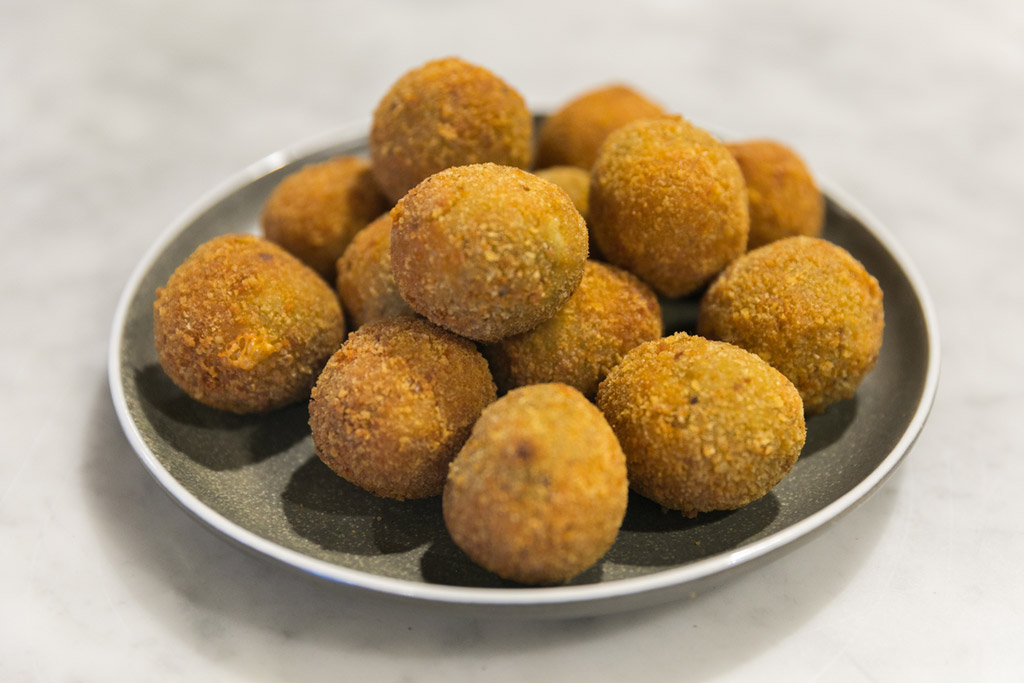 Fresh fish from the Adriatic Sea
Sardines, anchovies, mackerel, amberjack, tuna and many other varieties of oily fish, rich in beneficial and nutritional properties.
White fish such as red mullet, cod, sole, squid, shrimp
Seafood: clams, mussels, clams and snails
The port in San Benedetto del Tronto is one of the main national fishing and tourist points of convergence. Visit the fish market located between the northern dock and the seaport, and be amazed by the peculiar environment. San Benedetto del Tronto's port is the second Italian port, after Mazara del Vallo, for the quantities of fish and the number of fishing boats.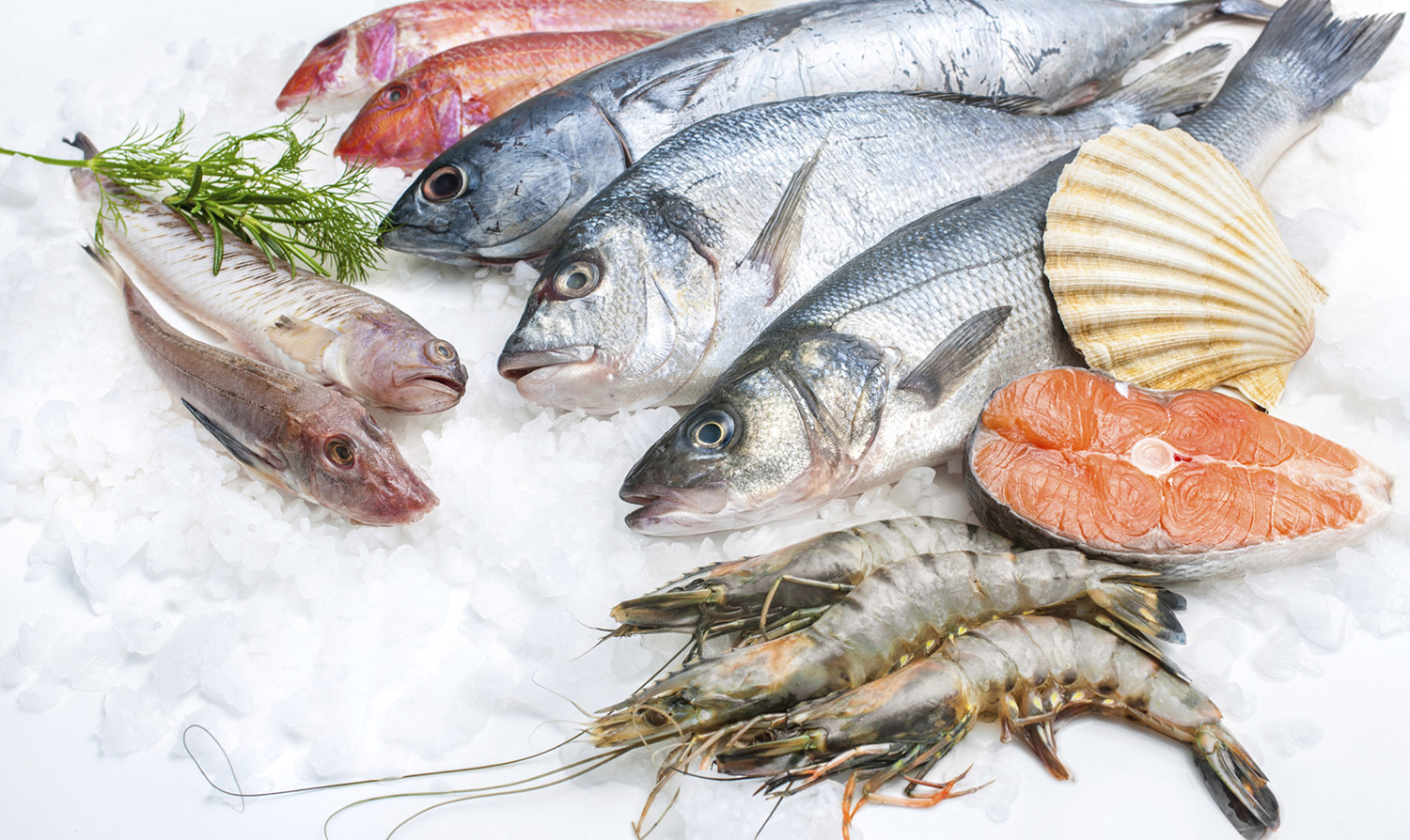 Wine Bars and Shops
Ciù Ciù Showroom
Piazza del Popolo, 20
tel +39 0736 618024
www.ciuciuvini.it
email: This email address is being protected from spambots. You need JavaScript enabled to view it. This email address is being protected from spambots. You need JavaScript enabled to view it.
Vistrò – Vino e Cucina
Corso Serpente Aureo, 64
tel. +39 0736 880401
Cantina Offida
Piazza del Popolo, 14
tel. +39 0736 880356 / cell. +39 338 7632757
Cantina San Giovanni
Piazza XX Settembre
Offida
Enoteca Regionale delle Marche
Via Garibaldi, 75
tel. +39 0736 618023 / +39 0736 880005
www.vineamarche.it
Spazio vino - Enoteca wine bar
Via Garibaldi, 75
tel. +39 0736 618023 / cell. +39 329 924404
www.spaziovino.it
Cantinetta dell'Olmo
Corso Serpente Aureo,60
cell. +39 0736 889504
www.baronedellolmo.it
e-mail: This email address is being protected from spambots. You need JavaScript enabled to view it.
Cantina Tenuta Cocci Grifoni
Contrada Messieri, 12 - San Savino di Ripatransone (AP)
tel: +39 0735 90143
Oleificio Aleandri
Con degustazione Olio
Via F.lli Cervi 34 - Offida (AP)
Restaurants, Pubs and Pizzerias
Pub pizzeria Blue Bird
Via 1° maggio, 33
tel 0736 887141
Ristorante Serpente Aureo
(ristorante di pesce e pizzeria – prezzi medi)
Borgo Giacomo Leopardi 22,24 - Offida
Tel. 328 6691506
Osteria Cantina Offida
(degustazione vini e ristorante – prezzi medi)
Piazza del Popolo, 14
tel. +39 0736 880356 / cell. +39 338 7632757
Osteria Ophis
(ristorante gourmet – prezzi medio alti)
Corso Serpente Aureo, 54-b
tel/fax +39 0736 889920
Web: www.osteriaophis.com
e-mail: This email address is being protected from spambots. You need JavaScript enabled to view it.
Pizzeria La Siesta
(pizza da asporto)
Corso Serpente Aureo, 77/B
Tel. +39 0736 880856
Pizzeria stuzzicheria Prima o Poi
(pizzeria e asporto)
Borgo G. Leopardi, 38
tel. +39 0736 888641
Ristorante Caroline
(ristorante – prezzi medi)
Via Mazzini, 7
tel. +39 0736 880811
Web: www.hotelcaroline.it
e-mail: This email address is being protected from spambots. You need JavaScript enabled to view it.
Ristorante La Fonte
(ristorante – prezzi medi)
Via Tesino, 73/A
tel. +39 0736 880706 / tel. +39 0736 889002
Web: www.hotelristorantelafonte.it
e-mail: This email address is being protected from spambots. You need JavaScript enabled to view it.
Rosa dei Venti
Via Tesino, 261/b
tel/fax +39 0736 889201
Web: www.agriturismorosadeiventi.it
e-mail: This email address is being protected from spambots. You need JavaScript enabled to view it.
Ristorante Blob
Via P. Togliatti, 84
tel. +39 0736 887041 / tel. +39 333 7599014
e-mail: This email address is being protected from spambots. You need JavaScript enabled to view it.
Pizzeria La Mattra
(ristorante e pizzeria – prezzi medi)
P.zza F.lli Cervi, 10
tel. +39 0736 889787
This email address is being protected from spambots. You need JavaScript enabled to view it.
Cafes and Gelato shops
Bar Eiffel
Borgo G. Leopardi, 33
tel. +39 0736 889051
Bar Mandozzi
Borgo Miriam
tel +39 0736 887022
Bar Ophis
Via Ciabattoni, 13
tel. +39 0736 887023
Blob Caffè
Santa Maria Goretti
tel. +39 0736 887041
Caffè del Corso
Corso Serpente Aureo, 77
Caffè Aureo
Corso Serpente Aureo, 70/72
tel. +39 0736 889909
Gelateria Amor di Gelato
Corso Serpente Aureo, 93
tel. 327 8295061
This email address is being protected from spambots. You need JavaScript enabled to view it.
Gelateria Camela
Borgo G. Leopardi (interno Bambinopoli)
tel. +39 0736 880846
Nuovo Bar
Viale IV novembre, 35
tel. +39 0736 887040